It is easy to find your favorite content or post on Tumblr if you know how to use the Tumblr search option very well. There are tons of content on Tumblr to find posts or articles of your interest. We have a few perfect and easy ways to search on Tumblr. You can search on Tumblr with:
Using Hashtag
Using Keywords
With URL's
Using Search Filters
Tumblr is a social media tool and blogging site that allows users to publish a" tumblelog" or short blog post. It is an interaction between social networking sites like Twitter or Facebook and a blog. You can create an online diary or blog and reblog posts, photos, and videos that you like and share with your blog for your followers to see.
Since it has launched it has created many changes to the app but it remains constantly popular among the users.
Tumblr has an array of content with hundreds and thousands of unique sites hosted within. Unlike other social media platforms, Tumblr allows its users to search through its content incongruously.
So, don't swerve on your path of searching because here I am going to walk you through 4 discrete ways to find content on Tumblr. But let's find out what is Tumblr and how it works.
What is Tumblr exactly?
Tumblr is a microblogging social networking site that allows users to post multimedia and other content in a short-form blog. Bloggers have the option to make their blogs private or public. It also provides the following feature where users can follow other users' blogs and can message them privately also.
You can share post text, photos, links, quotes, music, or even from email to Tumblr. It lets you share content easily with anyone on the Tumblr platform.
How to search On Tumblr?
Do you think you can search effectively with such sheer volume working against you? Of course, you can.
There are a few ways to search on Tumblr. Above all, hashtags are the best way to find blogs and posts you haven't yet seen.
You can use keywords, filter your results and also use URLs to search on Tumblr but they will often provide you a wider range of results which can be more useful if you have time for net surfing or burn browsing.
Performing a particular search tab with the magnifying glass on the top of the dashboard. You can also visit tumblr.com/search to search directly.

Type whatever you want to search and then hit enter. You will witness innumerable results. And that's it you just performed a search.
Let's explain them in detail
1. Using Hashtags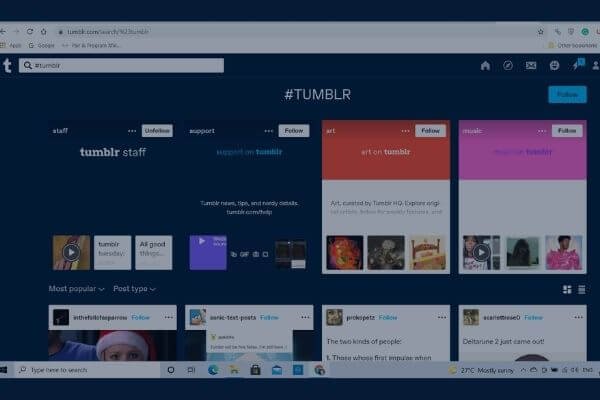 Hashtags are the primary way to search on Tumblr. Besides, it is a big thing on Tumblr. Whenever you add any post or images to Tumblr don't forget to use hashtags. This way people will search for your blog easily.
To search on Tumblr via hashtags, use the search bar you will find at the top of the page and type any hashtag that you are looking for.
For instance, you can type #tech blogs for technology-related blogs or you can also use multiple tags to narrow your search further like #tech blogs #instagram #relate13. This way you can find all the Instagram-related blogs on the relate13 website in front of you.
Hashtags are simply the best and most fun way to search blogs on Tumblr and you can find each post firmly on Tumblr but the downside is that if someone doesn't post appropriate tags with their content you may have a hard time searching that particular blog.
2. Search on Tumblr using keywords
Keywords work much more similarly on any social media platform. By searching keywords on the search bar, the user will get a wide variety of results.
On the contrary, to use keywords, you have to filter your results as you will also get familiar results too.
To give you an idea, if you type best celeb actresses in the search box you will get a wider range of content related to your keyword. Using keyword search you can explore more topics than using hashtags.
Sometimes it is fair to get a great number of results but sometimes it will consume a lot of time too.
3. Using URLs
URL can be the best source to find the perfect content that you are looking for. It's very useful when you saw a post, liked it, and felt like reading it again but you have forgotten the name. In this case, URLs seem to have quite an importance.
For instance, you can use URLs like;
Searching an archived post from a particular blog, use http://www.example.com/archive
Search a site with a particular tag. http://www.example.com/tagged/(your hashtag)
To Search, a blog with a keyword, use "http://www.example.com/search/(keyword)"
It is an ideal method if you are in a hush and searching for a particular blog. Rather than scrolling and browsing through the posts to find.
4. Search Using Filter Feature
When using keywords, you get a pool of results but it also provides you a feature where you can narrow down your search. It is filtering results. In the top menu, you will see a little compass icon in front of you, it helps to explore the topics you are looking for. And also categorize the topics to help you choose the subject you are looking for.
There is also an option for trending searches on the right. The option will help you to search for more content to get an idea of what is trending. Tumblr trending searches are democratic rather than funded. It does not use any money to promote content.
You may also like:
Conclusion
Tumblr has an ample mix of content to search for. It's a purview to explore trends as well as waste time. You can narrow down your searches and unlike Twitter and Facebook, you can search in different ways also.
If you know the right way to use the search option on Tumblr then it is very easy to find your choice of content on Tumblr. We have explained 4 different ways to do the search on Tumblr to help you to find any content you are looking for.
Keep searching, keep growing!