Are you also racking your brain over how to delete your Instagram account? Instagram has captured everyone's heart as well as time too.
Instagram is lucrative where everyone wants to spend their whole day scrolling and chatting. But, it has also detached us from our reality.
Moving towards the focus, just like Facebook and other social media platforms Instagram allows its users to delete or deactivate their Instagram account permanently and temporarily.
Deactivating your Instagram account temporarily will disable your account and you won't be visible to other users for some time while deleting your account permanently will remove your profile photos, videos, comments like followers, and everything else you have a new Instagram account permanently.
If you are looking for a way to move on from social networking apps completely, you can delete your Instagram account. Once you delete your account, there is no way you can bring the account or old account data back.
Prerequisites before deleting your Instagram account
Before deleting, keep a laptop/PC or a smartphone with a stable internet connection in handy.
How to deactivate an Instagram account temporarily?
Note that you can't deactivate an Instagram account via a mobile application. This can only be done using the web browser as the app lacks the relevant support. To deactivate your account temporary follow these steps;
Go to the Instagram login page from a mobile browser or a laptop and log in using your Instagram credentials for the account you want to deactivate.
Select the profile option from the top right corner.
Tap the Edit Profile option from the given options on the screen.
Keep scrolling and at last, tap on temporarily disable my account option.
Once you tap on the disable button, It will show you a page with a drop-down list next to the question: why are you disabling your account?
Choose the relevant reason according to your preference.
The list includes options like creating a second account, can't find people to follow, concerned about my data, just needing a break, privacy concerns, too busy/too distracting, wanting to remove something, etc., etc.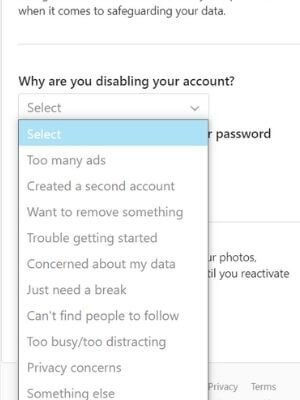 Pick the reason for disabling the account and re-enter the password.
Click temporarily close account.
Once you have done that your Instagram account is invisible to other users. Your profile, photos, reels, IGTV will no longer be visible to other Instagram users.
However, if you login in again to check whether it's deactivated or not, it will open again and now you have to wait for seven days to disable it again.
Instagram also gains access to users to set the posts to private or block people to restrict individuals from viewing your profile.
Moreover, you can reactivate your account by simply logging back in via the mobile application or web browser.
How to delete an Instagram account permanently.
If you don't want to take any break from Instagram rather want to delete it permanently due to any reason. It's pretty much the same process as temporary deactivation. Don't worry, you can do it easily by just tapping on a few options. Those options are;
With any smartphone or desktop/laptop in handy, go to the Delete your account page site.
Log in with the Instagram username and password.
A screen appears where you would be asked the reason for the permanent deletion of your account. It would probably be the same options as it were in temporary deactivation such as Privacy concerns, creating a second account, wanting to remove something, being too busy or distracting, can't find people to follow, and many more.
Select the reason for deleting your instagram account and re-enter your account password.
Hit the Permanently delete my account option and There you go.
Congratulations!! you have permanently deleted your account.
Related Topics:
How to Backup Your Instagram Data?
If you have decided that you want to delete your account, you must know that all your photos, posts, likes, and followers on the app will be deleted permanently. But if you wish to save your photos or data from the app before deleting the account, you can also download a copy of your information.
For this, follow the steps;
Tap your profile picture in the bottom right corner.
Go to your profile. Click on the setting tab.
After that, scroll and tab access data.
Click on view all and this will appear all the data you have on your Instagram account.
Download it from there and you have a copy of all your Instagram data in your hands.
Our Opinion
In the article, methods to delete Instagram accounts are specified. You can go for temporary deactivation or permanent deletion as per your preference, but I would suggest you go for temporary deactivation as you can get back to it anytime you want and disable it again.
Also, there won't be any data vanishing.
I hope you find the information useful and it helped you to get rid of your problem/reason behind this.