Forgetting your phone's password or pattern might have ruined your day, let's save your day by explaining how to unlock android phone password without factory reset.
How many times has it happened to you that you forgot the password to something that contains basically everything you need to do your everyday tasks? Our phones are more precious to us these days than pretty much everything else.
Have you ever lost the password to something this important? And do you need help figuring out how to unlock it? If the answer is yes, then you have come to the right place. You are not alone in facing this kind of problem.
After all, why wouldn't you protect your sensitive information with a complex password? And why wouldn't you forget it with so many passwords to remember these days?
If you are in a sticky situation like this, then let us help you unlock your Android phone without a factory reset. Before we jump right into it, we need to understand how the password on the Android system works.
There are several ways to unlock your phone like password, PIN, pattern, etc. And it is all done to protect all your information from getting into the wrong hands.
Such a situation calls for immediate action such as resetting your phone, right? But you would end up losing all your data. We have listed some of the methods that can be useful in getting your Android phone unlocked without having to factory reset it.
How To Unlock Android Phone Password Without Factory Reset?
Here are some ways you can try to unlock your phone without performing a factory reset:
Method 1: Unlock Android device without factory reset using your Google Account
So, if after several attempts, you have failed to get access to your Android device, you can use your associated Google account to access it and reset your password.
For this method to work, you need to try and unlock your phone at least five times. On the sixth attempt, you will be prompted with a message to try after 30 seconds.
You can also see a message that reads "forgot password" at the bottom of the screen.
Now you have to select the "Enter Google account details"
Next, you need to provide your Google account ID & password, that is linked with your device.
That is pretty much the gist of it. You can now put in a new pattern or PIN to unlock your device.
This was just one of the methods to get access back to your device. If you do not use a Gmail account, you can move on to other methods to unlock your phone.
Method 2: Unlock Android phone using Android Device Manager
You may not have heard of the Android Device Manager, but you certainly must have heard of "Find My Device". The application has since been rebranded and it is probably the best way to find your device if it gets lost or stolen.
This application can also be used to ring your device or even lock your device remotely. This application provides you with three options, "Ring", "Erase" and "Lock". All you will need to do is log in with your Google account that is linked with your device and follow these steps:
Once logged in, select the device you want to unlock.
On the next screen, you will need to select the option "Lock".
Once selected, a new pop-up will appear on the window which will ask you to enter a new password for your Android device. We also recommend you put in a recovery email and phone number on this screen, but these are optional.
You can now pick up your locked Android device and unlock it using the new password that you just set in the previous step.
Method 3: For Samsung Users – Unlock Samsung Phone Password Without Factory Reset
If you are a Samsung user and you, cannot access your Android device, the threat of a factory reset seems too dreadful, then you are in luck. You can use Samsung's "Find My Device" feature to save yourself. For this feature to work, you will need to have a Samsung account.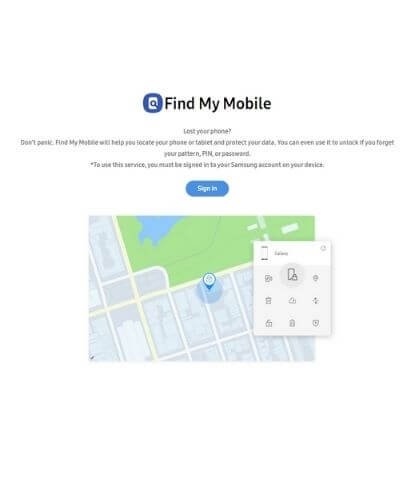 In the next window, select the option, "Lock my screen" from the left corner.
You will now need to enter a new PIN for the device and then select the "LOCK" option.
In just a few seconds, your password will be reset.
And now you can now unlock your device with this new PIN.
This method in our list is one of the easiest and most straightforward ways to unlock your Android device if it is a Samsung device.
Method 4: Unlock your Android phone Screen Lock by using Backup PIN
It is one of the methods to unlock your phone after making too many attempts to unlock it without a factory reset. Whenever you enable the pattern to unlock on your Android device, you may have noticed that you are required to set up a PIN as well.
When you enter the wrong password six times, you can use your backup PIN to unlock your device. Do the following steps –
Open your Android pattern unlock on the device.
After several failed attempts, you will see a message to try again after 30 seconds.
This is where you will get the option of "Backup PIN" option, click it.
Now you have to simply enter your Backup PIN and voila.
Your Android device is now unlocked without a factory reset.
This simple solution is for those who already have a backup PIN setup. If not, we suggest you move onto other methods mentioned in this article.
Method 5: Unlock Android Phone using Android Debug Bridge
This method is longer and more complicated than any other method mentioned in this article. If you have the time and are tech-savvy, this method is the way to go for you.
Android Debug Bridge (ADB) is certainly powerful and useful when it comes to unlocking your phone without factory reset.
Do try this method to unlock your password and device. Follow these steps –
You will need a PC / Laptop for this method to work. Download ADB to your system. Use the developer's site to download ADB – https://developer.android.com/studio/command-line/adb.html
Connect your device via a USB cable to the system.
You will also need to have Developer options enabled on your device for it to work.
To do this, go to your phone's Settings > About Phone > tap on the "Build Number" option seven times and this will enable developer options on the device.
Once done, go to Settings > Developer Options and switch on USB debugging.
When your device is connected to the system, launch the command prompt in the installation directory on your ADB.
Once launched, type in the command – "adb shell rm /data/system/gesture.key" and hit enter.
Now all that is left to do is to simply restart your device and you can now access it as usual.
Method 6: Unlock your Android device using third-party tools without factory reset
The simplest way to unlock your Android devices is using third-party tools. You will need a PC / Laptop for these tools to work. We would not be going into all the nits and grits of how these tools work as they are self-explanatory once you launch their intuitive UI.
Here is the list of tools that you can start using right away and fix that password without a hassle, just to name a few –

RoidKit– Android Phone Unlocker
Android Lock Screen Remover
Android Unlock
You may also like:
Conclusion
Forgetting the password to your Android device is common these days. With a hectic lifestyle and way too many passwords to remember, it is possible for anyone to run into this problem once in a life. However, more important to the issue of security and privacy was never of more concern than it is today.
All these methods mentioned above to unlock android phone password without factory reset will certainly help ease the pain of unlocking your device without sacrificing all your data by factory reset.